~~ This page is now part of the "Archives" Category on this Wiki. This page is also protected from edits. If you wish to make an edit, please contact SIGEmily ~~
Beggar is one of the professions available in The Black Death. He can carry 26 weight units with top of 80 and special skill "Beg" allows player to beg for 1 gold from other players, NPC Merchants, and NPC city guards. After opening all skills as a beggar, you can open next class Peasant.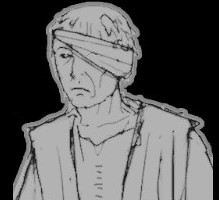 Description:
The plague brings not only death but extreme poverty, these times have some of the worst job prospects in centuries. Being a beggar not only means being at risk of constant infection but also starvation and solitude, the beggars survive by taking what's around them and crafting basic trinkets to sell in order to make a small profit or by simply begging. Beg for your life.
Skills:
The Beggar Skill Tree:
(1) Torch Improvisation: Craft Torches
(1) WoodAxe Improvisation: Craft Primitive Wood Axe
(1) PickAxe Improvisation: Craft Primitive Pick Axe
(1) Shovel Improvisation: Craft Primitive Shovel
(1) Fishing Improvisation: Craft Primitive Fishing Rod
(2) Armor Improvisation: Craft Stick Torso Armor
(1) Hammer Improvisation: Craft Stone Warhammer
(2) Spear Improvisation: Craft Wooden Spear
(2) Shield Improvisation: Craft Small Wooden Shield
(1) Primitive Soup Improvisation: Craft Mushroom Soup
(1) Primitive Jam Maker: Craft Berry Jam
(1) Novice Brewer: Craft Ale
(1) Novice Nurse: Craft Cotton Swabs
(2) Plague Mender: Craft Small Bubonic Cure Tonic
(2) Novice Drug Maker: Craft Mushroom Drug
(1) Fire Improvisation: Craft Camp Fire
(1) Bone Improvisation: Craft Bone Club
(1) Cloth Improvisation: Craft Cloth
(1) Gloves Improvisation: Craft Fingerless Gloves
(1) Trousers Improvisation: Craft Beggar Trousers
(3) Bow Improvisation: Craft Stick Bow and Arrows
(1) Tunic Improvisation: Craft Beggar Tunic
(1) Bed Maker: Bed Housing Kit
(1) Chest Cooper: Storage Chest Housing Kit
(1) Workbench Maker: Workbench Housing Kit
(1) Fireplace Builder: Fireplace Housing Kit
(1) Loom Maker: Loom Housing Kit
Trivia:
The Beggar profession was added to the game in Patch V0.07.
The Beggar skill "Beg" can beg from NPC characters since Patch V0.12.
Community content is available under
CC-BY-SA
unless otherwise noted.